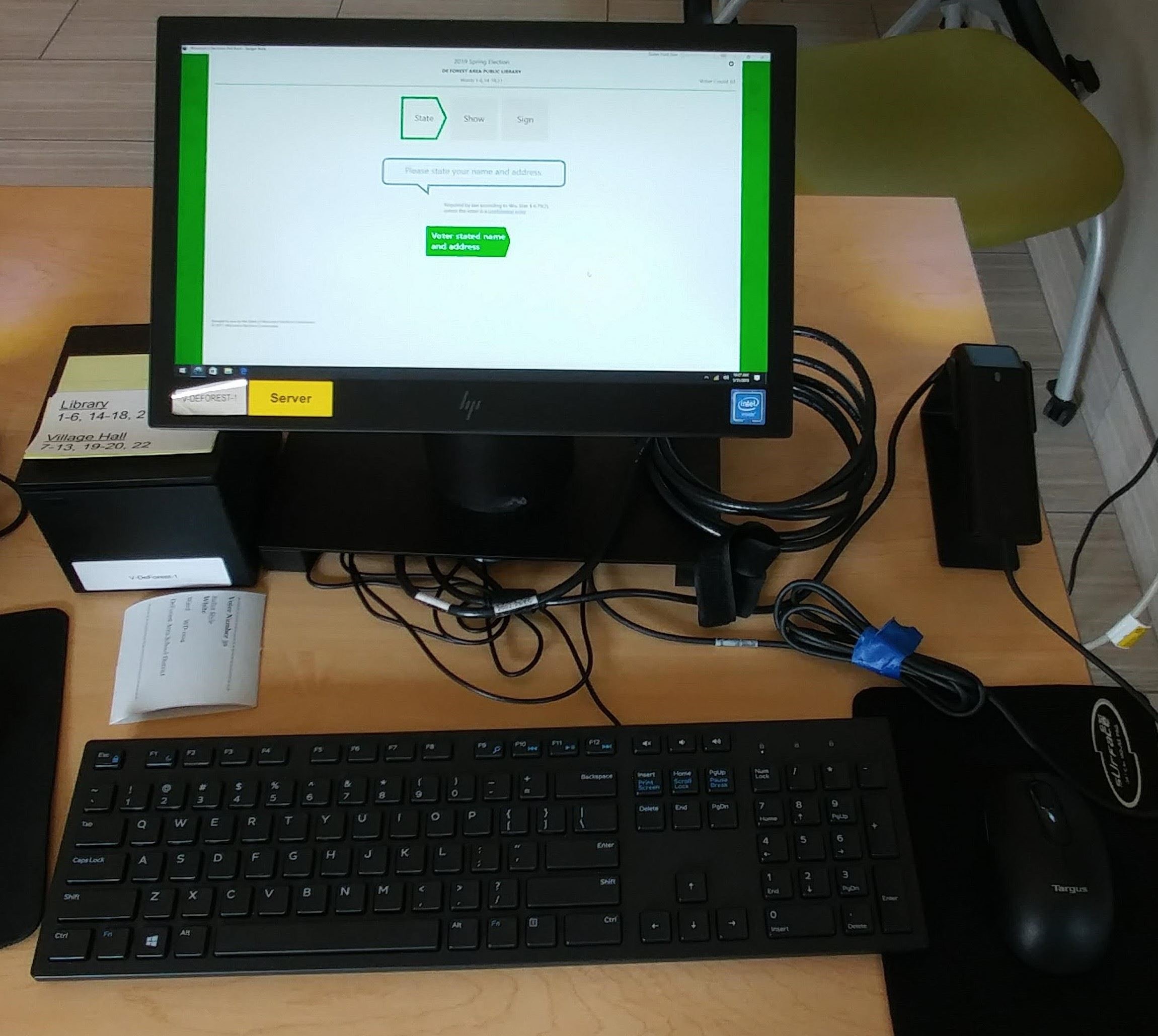 As with any new equipment for elections I am always a bit skeptical. Over the last few years I have gone through training for Badger Books and observed several elections where Badger Books were being used. After review I came to the conclusion that Badger Books was safe to use and in no way, could be hacked or interfiered with from outside influances. Badger Books can not impact voting or votes cast. They are only used to check people electronincly in the way we do with the regular poll books. The same IDs and proof of residence are used as we use with manual poll books. It does protect against the chance of someone attempting or accidently trying to vote in two locations.
At the bottom of this information sheet are a couple of youtube videos that were made independently by clerks from through out the state of Wisconsin. I figured why take the chance of breaking a camera by making my own.
We will be setting up the new Badger Books at the Town Hall over the next few months for residents to come in and view and see the procedures for their use. Our next election is not until 2024. I will also be providing training for our election inspectors over the next few months and will post those trainings so all residents may come in to see the units in action. Please watch for these postings.
As many of you remember, at the 2020 Presidential Election we had lines running outside and around the building. With Badger Books most residents will be through the checkin process in less than 30 seconds, where it normally takes 2 minutes during a paper poll book checkin. We have purchased 6 units for the Town of Harmony with grant money from ARPA. During the 2024 Presidential election, we should have very few if any lines as we will be able to have four people checking in at one time instead of one or two. We will use the first 3 elections of 2024 for training to ensure our layout is correct,
Badger Books Info
In 2017, at the direction of the Commission, WEC staff developed an electronic poll book application for use in Wisconsin elections. Wisconsin statute requires authorization from the commission for the use of any electronic poll book in the state. To date, the Badger Book is the only electronic poll book authorized for use in Wisconsin and is the only e-poll book application with indirect WisVote integration. Badger Books are not connected to the internet.
The Badger Book is only an electronic version of the paper poll book and as such, performs only those functions. It is used to check in voters, process Election Day Registrations (EDRs) per Wis. Stat. 6.79(2)(c), and record absentee participation.
After Election Day, a data file generated from the Badger Book is used to upload election participation and Election Day Registration information into WisVote so voters may see their participation more quickly in MyVote.
What is a Badger Book?
Badger Books are an electronic poll book which is a poll book. Election inspectors use these devices to check in voters and assign them a serial voter number, process absentee ballots, and process Election Day Registrations. At no point do Badger Books interact with the voting equipment/system in use in the polling place. Badger Books are not iPads. Badger Books do not process votes.
In some states, electronic poll books (often sold by voting equipment vendors) will interface with the election management system/voting system to the degree that they function as ballot-on-demand devices. This basically means that the poll book can be used to both check in a voter and print their respective ballot in one transaction. Again, this is not the case in Wisconsin and Badger Books function completely independently of any voting system currently certified for use or in use in Wisconsin.
Are Badger Books Connected to the Internet?
Badger Books are not connected to the internet. Badger Books use a secure local wireless network to communicate with one another within the polling place. Some polling places use a hardwired connection in place of the wireless connection.
Are Badger Books Connected to the State Wide Voter Registration System?
An internet connection is required to access the statewide voter registration system. Badger Books are not connected to the internet. Badger Books cannot access the statewide voter registration system.
Are Badger Books Certified?
No federal certification standards currently exist for electronic poll books. Some states have implemented their own certification standards. Badger Books are not voting equipment and voting equipment certification standards do not apply.
The Commission has authority to approve electronic poll books. Per Wis. Stat. § 6.79(1m), "the system employed to maintain the list electronically is subject to the approval of the Commission."
Also, per Wis. Stat. § 5.05(18), "the commission may facilitate the creation and maintenance of electronic poll lists for purposes of s. 6.79 including entering into contracts with vendors and establishing programs for development and testing."
Electronic poll books fall outside of the Voluntary Voting Systems Guidelines (versions 1.0, 1.1, or 2.0), which are standards used to certify voting equipment at the federal level.
How do Poll Workers Share Duties in a Polling Place Using Badger Books?
Poll workers operate in close proximity to one another and work under the supervision of the Chief Inspector. They do not work in secret. There is never a single poll worker working at a polling place. There are also often observers in the polling place on Election Day.
Per Wis. Stat. §6.79(1m), "The municipal clerk may elect to maintain the information on the poll list manually or electronically. If the clerk elects to maintain the list electronically, an election official at each election ward shall be in charge of and shall maintain the poll list. The system employed to maintain the list electronically is subject to the approval of the commission. If the clerk elects to maintain the information manually, 2 election officials at each election ward shall be in charge of and shall maintain 2 separate poll lists."
A large part of maintaining two separate lists is implementing a redundant check to ensure electors are being recorded appropriately and that the voter numbers match throughout the day. Badger Books do this on a larger scale with the voter transactions taking place on every device visible to all other Badger Books in the polling place. Whatever a poll worker does on one Badger Book is visible to any other poll worker on any other Badger Book. As each poll worker has unique credentials for the Badger Book application, all voter transactions, including checking in voters or processing Election Day Registrations, can be tied back to the poll worker who completed that transaction. So, Badger Books have more people looking at the poll book, not less.
Ballots are handled separately from the Badger Books and must be initialed by two election inspectors to become live. For that reason, a single corrupt poll worker couldn't check off voters and vote ballots on behalf of electors who did not vote.
Video Links
https://www.youtube.com/watch?v=tK_MgaBBaoE
https://www.youtube.com/watch?v=lIWpsl12eko
https://www.youtube.com/watch?v=6plR8Tf2jac
Thanks
Tim Tollefson
Clerk