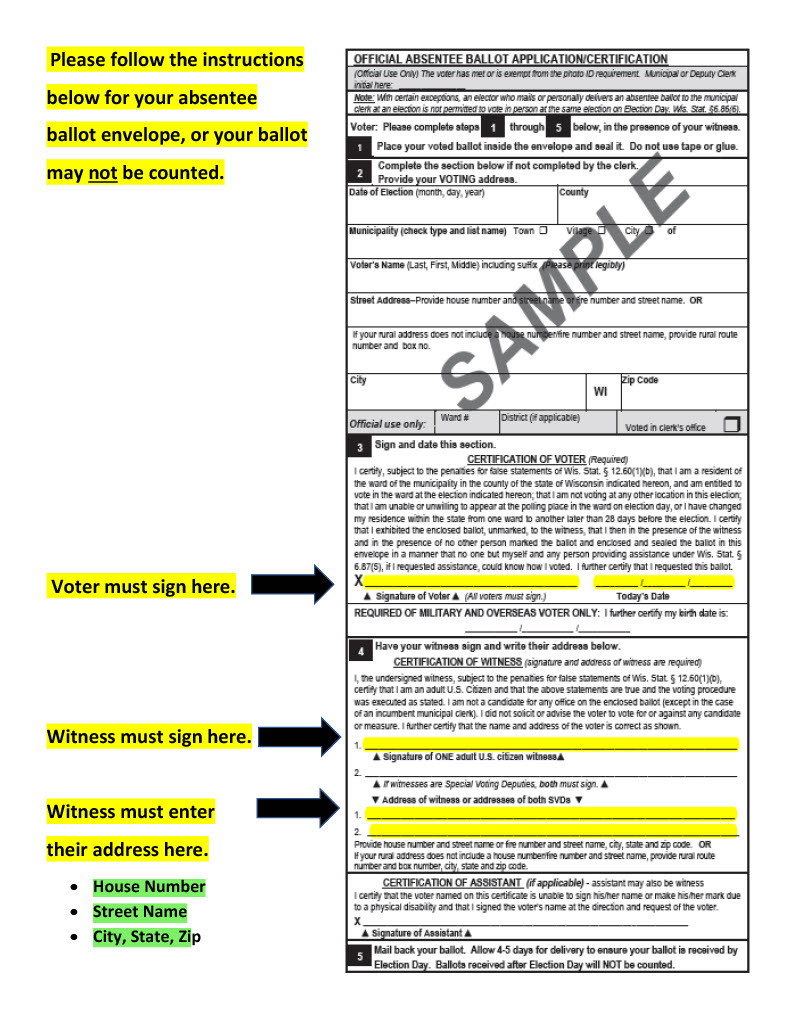 Election Information for April 4th 2023
What is the number one reason an absentee ballot is rejected? The envelope which ballot is mailed back to the clerk is not filled out properly. The voter must sign and date the envelope and the witness must sign and put their entire address on the envelope. See attached. A copy of these instruction are in the ballot being mailed to you. Please follow them.
Sample Ballots
Sample Ballot for Milton School District Click Here
Sample Ballot for Janesville School District Click Here
Class C Notice for State Referendums
Type C Notice for State Referendums Click Here
Notice for Milton Schools Referendums
Notice for Milton Schools Referendum. Click Here
Voting Absentee by Mail
If you are planning to vote absentee by mail, the easiest way to request a ballot is to go to www.myvote.wi.gov and request a ballot. This will take only a few minutes. Or you can see below for an absentee ballot request that can be emailed or mailed to me, I do need a copy of your Drivers License or ID. Please get your request in soon.
Remember, all absentee ballots must be to the clerk by 8pm on election day.
Inperson Absentee Voting
Inperson absentee voting schedule is listed below.
Tuesday March 21 to Friday March 24 From 1pm to 5pm
Tuesday March 28t to Friday March 31 From 1pm to 5pm
Be sure to bring your ID with you.
Public Test of Election Equipment
We will hold a Public Test of the election equipment on Saturday April 1, 2023 at 9am. This will be at the Town Hall, 440 N US HWY 14. Janesville. The pubic test is to ensure all equipment is working properly. If you have questions about the equipment used or would like to view the public test, this test is open to everyone.
Election Day
Election Day is April 4th 2023. The polls will be open from 7am to 8pm. The polls are located at 440 N US Hwy 14, Janesville WI 53546. You must be at the polls by 8pm. We wil once again split the poll books from A to K and from M to Z to speed up the processing.